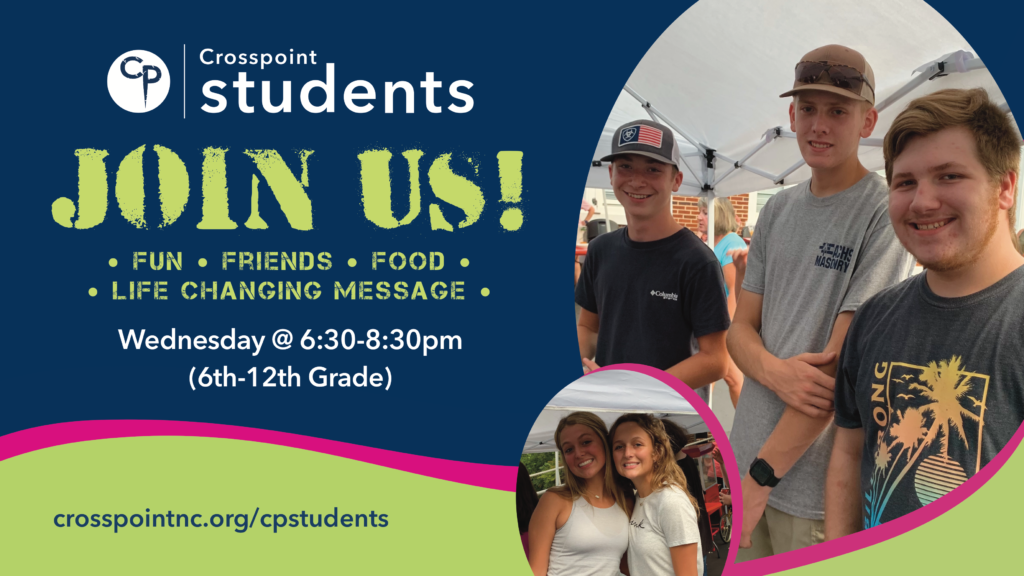 Connect students to Jesus.
Wednesday Nights 6:30-8:30pm
(Beginning August 25th)
Crosspoint Ministry Center
5860 US Hwy 64-90 Taylorsville, NC 28681
6th-12th Graders (ages 11-18)
Crosspoint Students is a safe place for students to connect with Jesus
and others.
On Wednesday nights teens will enjoy spending time with their friends,
playing crazy games, learning
life-changing Bible lessons, engaging in
small group discussion, and eating delicious snacks.
Join us at CP Students and experience
the love of Jesus Christ!
Crosspoint Students Events
ACTIVITIES/EVENTS
PERMISSION FORMS
Click an activity for more information and
to fill out a permission form… thank you!
More Events Coming Soon!!

CP Students Medical Release
Find CP Students on Instagram